A major upgrade of Central Station's historic buildings is set to be pared back in an attempt by a controversial state-owned corporation now controlling NSW's rail assets to slash the project's costs by more than $100 million.
A new "transparent roof" over the grand concourse at Central and restoration of the station's historic sandstone facade, as well as upgrades to other buildings, are part of the long-awaited revamp.
Amid surging construction expenses, confidential board papers for the Transport Asset Holding Entity (TAHE) show it has been searching for ways to slash the cost of the upgrade at Sydney's busiest train station. The final business case for the project had originally put the cost at $445 million.
However, a team charged with finding savings has proposed cutting the cost by $100.8 million to $345 million, which would include reducing the amount spent on the new roof. It has also suggested a $10 million reduction to the work restoring the station's sandstone facade.
The revamp is separate to the construction of platforms for a new metro rail line and a major underground pedestrian link at Central, which has risen in cost by $185 million to $1.14 billion. That project is in its final stages.
The February board papers – obtained by the Herald – show plans to publicly reveal the revamp of the station's main buildings late this year, months before the next state election.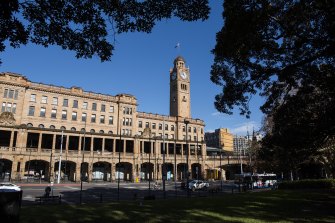 The Herald This week, TAHE revealed ambitious plans to sell or redevelop land across Sydney's rail network and morph into a big property developer to deliver more than $40 billion in government windfalls.
Part of that plan over the next three years is to accelerate work on an $11.6 billion development of 24 hectares of government-owned land in and around Central Station, as well as a further 10 hectares at Redfern and North Eveleigh.