The Astros are set to bring in two of their most talented young players in the coming days. Both of them Hunter Brown and Yainer Diaz reportedly getting his first major league call-ups. Brown's promotion is expected to come when active rosters expand from 26 to 28 players on Thursday, while the specific timing of Diaz's call-up is unclear.
It's a wonderful birthday present for Brown, who turned 24 today. A fifth-round pick out of Wayne State University in 2019, Brown surpassed that relatively modest draft status. He struggled with his control late in his draft year, and his first full pro season was derailed by the pandemic. The Detroit native began the 2021 campaign in Double-A and generally overwhelmed upper-level hitters. He fanned 35% of opponents and induced ground balls at a quality 47.7% clip to earn a midseason berth to Triple-A Sugar Land.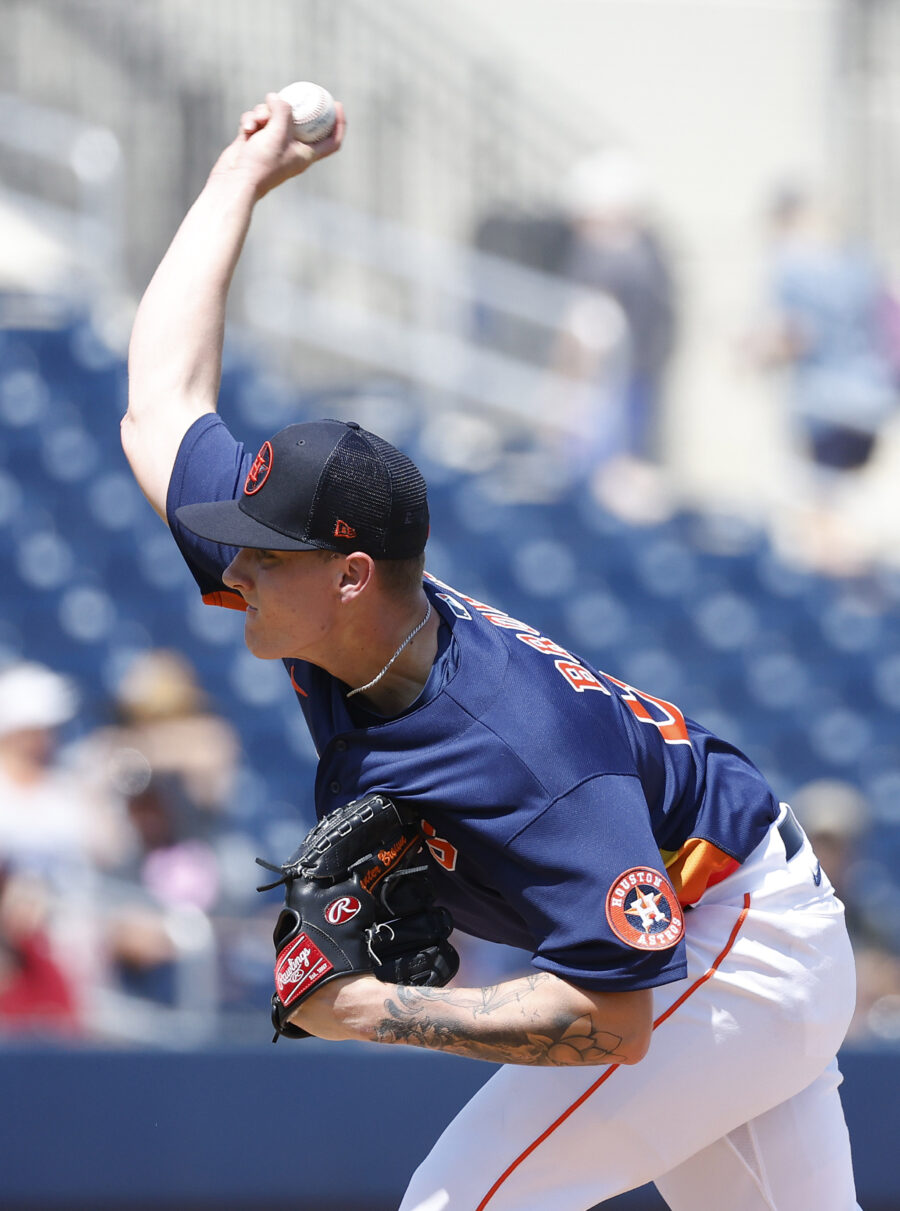 Brown returned to the Space Cowboys to open the 2022 campaign. He spent the entire year there, working 106 innings over 23 outings (14 starts). He posted a 2.55 ERA, which is the lowest mark among the 50 Pacific Coast League pitchers with at least 60 frames. Brown struck out an impressive 31.5% of batters faced and collected groundouts at a whopping 54.2% clip. His 10.6% percentage is a few points higher than average, but the combination of strikeouts and grounders hints at the elite stuff he swings.
Baseball America recently ranked Brown as the sport's No. 40 overall minor league talent. BA credits the righty with a plus-plus fastball (70 on the scouting scale) that sits in the mid-90s and can reach 99 MPH. The outlet praises his lower 80s curveball and suggests that both his slider and changeup could be middle MLB offerings. With such an arsenal, it's little surprise that Brown piled up strikeouts in the minors, but evaluators are raising questions about his strikeout consistency. Whether he'll have good enough command to stick in an MLB rotation long-term remains to be seen, but it seems more likely that the club will break him into the majors as a potential relief weapon for the stretch run.
Houston has some uncertainty in the starting staff at the moment. Luis Garcia struggled recently, while Justin Verlander is set to undergo an MRI after leaving yesterday's start with calf discomfort. Even if Verlander claims the injured list — which has not yet been determined — the club could work Christian Xavier back into rotation with Framber Valdez, Jose Urquidy, Lance McCullers Jr. and Garcia. Brown's ability to work high-octane stuff for multiple innings could make him a key bullpen piece for manager Dusty Baker, and September could serve as an audition for a spot on the club's postseason rosters.
Brown's promotion is the headline news for Houston, but Diaz's call-up also marks a notable transaction. A right-handed hitting catcher, Diaz was acquired by Cleveland in last summer's trade deadline that sent Myles Straw for Phil Matton. Not generally viewed as a huge piece of the deal at the time, the Dominican Republic native played the 2021 campaign in High-A. Despite a massive showing at the plate, he was left off the 40-man roster last winter and would have been available to other clubs had the Rule 5 draft not been canceled due to the lockout.
Remarkably, Diaz went from being left unprotected to one of the organization's top prospects in a matter of months. BA placed him as the organization's No. 2 farm assistant on their midseason reranking of the system, while Eric Longenhagen of FanGraphs placed him third among Houston's minor leaguers last month. Both outlets praise his offense, noting that he is primarily a bat-first catcher. That was on full display during what was a breakout season in the upper levels.
Diaz began the season in Double-A Corpus Christi. He hit .316/.367/.504 over 267 plate appearances, earning a bump to Sugar Land in late June. The 23-year-old continued to mash, posting a .294/.342/.587 showing with 16 long balls in 219 trips to the plate. Diaz only struck out in 16.3% of his plate appearances while posting a cumulative .306/.356/.542 line to earn his first crack at big league pitching. With Martin Maldonado and Christian Vazquez handily, Baker doesn't think to pencil Diaz in behind the plate very often. He got a few looks at first base and very briefly in the corner outfield this season, and he will add a bench bat with the ability to catch or work around the corners as needed.
Each of Brown and Diaz would be eligible for the Rule 5 this winter if not added to the 40-man roster. They were therefore lockable for the roster at the end of the year at the latest, but Houston will look early on to two of their best young players to see if they can possibly contribute to this year's playoff team. Houston's 40-man roster is full, so they'll have to create a couple of vacancies there even with the upcoming active roster expansion.
Brian McTaggart of MLB.com reported that Brown had been promoted. Fox 26's Mark Berman was first to report Diaz's promotion.
Image courtesy of USA Today Sports.